Iraq Beats Saudi Arabia to Win Asian Cup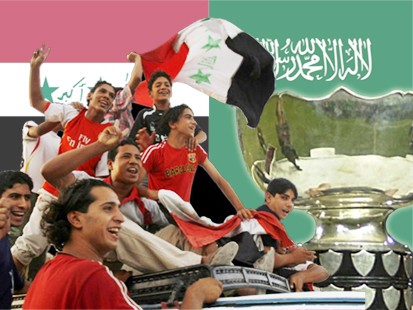 On Sunday, Iraq defeated Saudi Arabia 1-0 to win the Asian Cup. Unlike the semifinal victory, which was marred by 2 car bombings, thousands of Iraqis were able to celebrate in the streets in relative safety due to curfews on cars in cities.
The team's Brazilian coach, Jorvan Viera, is credited with their success. Although he will leave the team, he brought the players together and united them for a common goal.

Iraq midfielder Nashat Akram, named the "man of the match" on Sunday, said during the pre-game press conference that Vieira "changed everything" when he arrived in late April. The squad had been hampered by a similar, if less grossly violent version of modern Iraqi sectarian in-fighting before the Brazilian's arrival.

Now, as Vieira told ABC before his side's quarterfinal match with Vietnam, "They are united. They respect each other and have been working together. Who is a Sunni … who is Shia is not my problem. That is important for the Iraqi people to see."
Congratulations to the Iraqi team and the people of Iraq. It has been fantastic to see them all coming together during their team's run to the championship. Hopefully, they can learn from their team and continue that spirit of togetherness.
Source: (ABCNews)
Like this post? Subscribe to our RSS feed or get Sports Rubbish in your inbox every day!
Other Articles You Might Enjoy: